The Lady Pythons recently defeated The McIntosh Eagles girls basketball team in a 41-32 victory at Riverview High School on Friday, Feb. 3, for the Middle School County Championship. Relying on the swiftness of their guards and strength of their centers, the girls were able to achieve their perfect 10-0 season and their sixth county championship.
Starters for the championship game included sixth grader Nidgi Schnaeidr, seventh-graders McKenna Flaherty and Maddy Boehm, and eighth-graders Ellie DiGiacomo and Kareena Legare.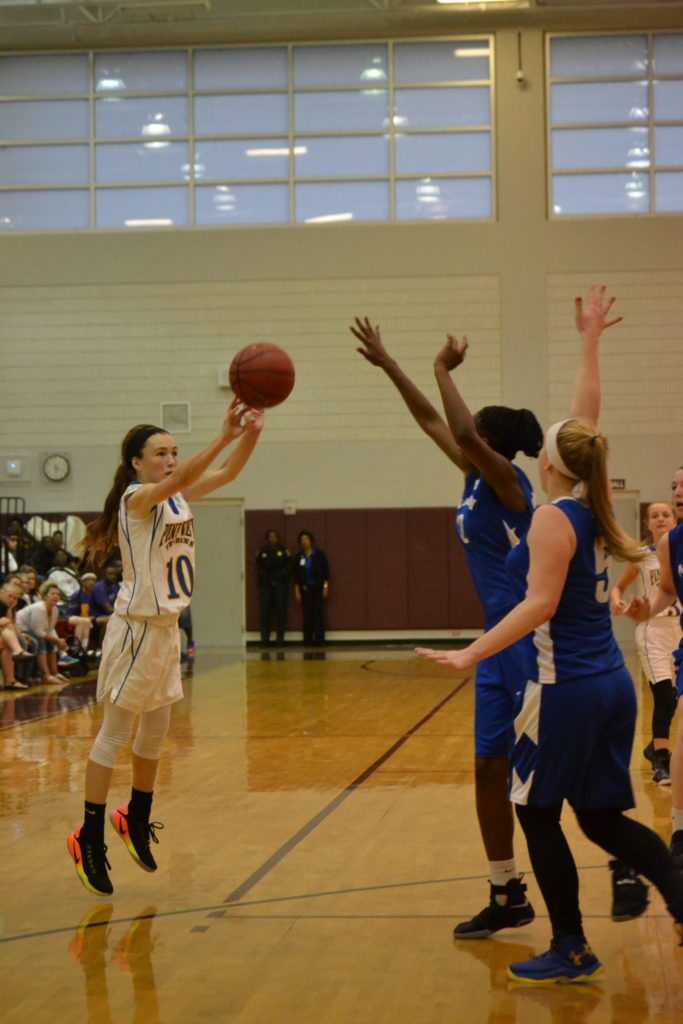 After receiving the jump ball within the first fifteen seconds of the game, McIntosh scored two points in the paint. Pine View quickly regained ground, however, after Boehm scored six points from a fast-break down the court followed by two steals. DiGiacomo quickly added to the scoreboard with a layup and two three pointers. McIntosh offense struggled to keep up with the nonstop pressure from the Lady Pythons, and steals from Flaherty and Legare allowed Pine View to play offense.
Eighth-grader Noelle Bencie had two layups in the paint, along with two blocked shots. Schnaeidr scored four points off of a jump shot and layup while Boehm and DiGiacomo constantly added field goals and easy points to the score. The first half of the game ended with a score of 31-15, with Pine View holding a solid lead.
It was a good first half, but we have to maintain the momentum at which the game is going… Our defense within these next 12 minutes has to remain strong." Bencie said.
The beginning of the second half was lengthy, as neither team scored within the first few minutes. It was only when the Eagles' head coach Ty Bryant called for a full time out that the game began to turn tides.
After rearranging McIntosh's offense and switching from zone to man-to-man defense, the Eagles began to catch up. McIntosh's eighth-grader Chariot Johnson scored nearly ten points within the half, while the rest of the Eagles added to the scoreboard. At nearly five minutes until the end of the game, McIntosh was only ten points behind.
Yet after constant motivation and encouragement from their teammates and their coach and physical education teacher Joe DiGiacomo, the Lady Pythons stepped up their defense and rep
eatedly stole the ball and scored when the opportunity was wide open, attempting to drain the clock of its final seconds.
Although the Eagles ended up scoring a final buzzer-beater in the paint, it was the Lady Pythons who took home the victory. In the locker room, Joe DiGiacomo gave his final post-game speech to his team and their perfect season. "I give credit to the entire team for waking up for 7:30 a.m. practice every morning and putting in hard work," he said. "Next year, we'll work to do just as well."
---
Photos by NATHALIE BENCIE