In another installment of The Torch's taste tests, vegetarians and non-vegetarians took on tofu. Staffers Suzanne Brown (eleventh-grade), Haleigh Brown (tenth-grade), Zayda Fredericks (tenth-grade), Elizabeth Hopkins (ninth-grade) and William Khabbaz (tenth-grade) tried the age-old vegetarian staple, tofu. Tofu, in simple terms, is bean curd, and a popular meat alternative to vegetarians. The plates staffers tasted consisted of meat-flavored tofu meals, each platter representing a different time of day dish. See their reactions and thoughts on substitute sausage, chicken nuggets and riblets.
Our foods:
Breakfast – Sausage Patty
Initial reaction

Zayda: Interesting.
William: Umm…. I think it kind of tastes like sausage.
Haleigh: Not a lot of flavor.
Suzanne (the sole vegetarian of the group): I forget what real sausage tastes like, but this kind of tastes like what I remember. It's muted.
Haleigh: There's less flavor. It's more bland and does not look like sausage.
Suzanne: I think it looks decent. Well, it's not something I would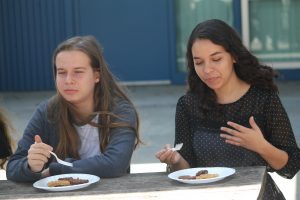 willingly eat.
Zayda: I don't like it.
William: I personally think that I would eat it if…
Haleigh: …I was hungry.
William & Zayda: Yeah.
Thoughts
Haleigh: It does not look like real meat, nor does it taste like it. It's like a bland impostor. If I was hungry I guess I would eat it.
Zayda: Re-tweet sister.
William: Yeah, it definitely doesn't look like meat. It tastes sort of like sausage. I would eat it just because it's probably healthier than sausage.
Zayda: The scent is very sharp in contrast to the rest of the items on the plate. It's very pungent, but I wouldn't eat it.
Elizabeth: I'd eat it if it was there. The texture was really soft so it was kind of different than real meat, but the flavor was there. It didn't smell like it tasted though.
Suzanne: It tastes like remotely what I think sausage tasted like when I last had it a few years ago. This isn't my favorite vegetarian dish, but with pancakes or something I'd definitely try it.
Real meat or soy meat?
Suzanne: If there was a buy one get one free
sale at Publix, I might hit them up.
Zayda: I would not eat it for breakfast.
William: I usually don't eat sausage, but I would eat this if my mom bought it.
Haleigh: I would eat this if it was offered to me. It's sausage, it's whatever.
Lunch – Chicken Nugget
Initial Reaction
Zayda: Oh… wow.
Haleigh: Okay no, if you're going to do chicken nuggets you got to do Morning Star chicken nuggets…
Suzanne: What are these… like crispy chicken tenders?
Zayda: Crispy? Sister…
Haleigh: This is slimy. I would much rather hop over to Chick-fil-a or PDQ. I've had more appetizing vegetarian chicken nuggets. This brand is a no.
Elizabeth: It tastes a lot like the chicken nuggets from the cafeteria. The texture is similar.
William: It doesn't taste like a chicken nugget, but it's not horrible. The only way I could eat this is if I dipped it in a ton of ketchup.
Haleigh: I agree.
Zayda: It's a no from me.
Suzanne: I've only had two other types of vegetarian chicken, and this is at the bottom of the list. This chicken is smushy, and I'm not a fan…
Real meat or soy meat?
Suzanne: There are better faux chicken nuggets out there.
Elizabeth: Real chicken.
Zayda: Real chicken. I would not have this for lunch.
William: Real chicken please.
Haleigh: A better faux chicken.
Dinner – Riblet
Zayda: Oh wow! This tastes e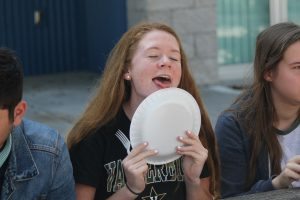 xactly like the real stuff.
Haleigh: Mmm, I love barbecue. This is nice.
William: This is good.
Elizabeth: It tastes the most like real meat.
Haleigh: It's less tough, and much easier to get through.
Zayda: I like it more than real meat.
Suzanne: I'm sketched out because this tastes the most like what real meat tastes out of all the vegetarian meats
I've tried. I think the barbecue masks the taste of tofu.
Haleigh: Right.
Suzanne: It's weird because it feels like I'm eating meat.
Haleigh: I feel like I just left Sonny's Barbecue.
Suzanne: This could be a pretty good sloppy joe.
Real meat or soy meat?
Haleigh: Okay I think this was quality. I would totally eat this over real meat, but then again, barbecue sauce is delicious to begin with.
William: Yeah, the riblet was actually good. I usually don't eat riblets but it was good. Gucci.
Zayda: I really enjoyed this. It tasted like authentic meat.
Elizabeth: I though that this was the best option. It tasted the most like meat, and the barbecue sauce was really great with it.
Suzanne: Out of all the faux meats that I've tried within the past two years, this is definitely the one that tastes the most like real meat… I'm not a big barbecue person in general but it was pretty good and I would definitely have it again.
Final Ranking (out of 10)
Elizabeth: Sausage patty, three. Chicken patty, two and McRib…
Everyone: McRib?!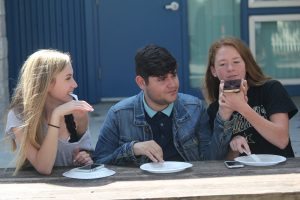 Elizabeth: It's really similar isn't it?
William: Iconic.
Elizabeth: And the riblet, not McRib, an eight.
Zayda: The ribs, 10. Five for the sausage, and four for the chicken.
William: Five for the sausage. Six for the chicken nuggets. Eight for the riblet.
Haleigh: The chicken was soggy, so I'm giving that a four, that was awful. The sausage gets a six. The rib was an eight or a nine.
Suzanne: As the vegetarian, the chicken tender thing was at the with a four. The sausage and the riblet were tied for me, because I'm just not a big barbecue person, so I'd give both of those sevens. Go vegetarian!