As my senior year begins, I find myself and my fellow classmates mentioning "11 years." Attending the same school from second through twelfth grade is a feat in itself; there is a pride among the pythons that have endured on this campus for more than half of their lives.
No matter how one feels about those 11 years, it is undeniable that Pine View teaches as many lessons outside as it does inside the classroom. Here's what I've learned from each of mine.
Second grade – You are never the weirdest person in the room
For the first time in my life, I was surrounded by people as weird as I was. Not only were my peers unique and special, my teachers were too. I can never beat my second grade teacher, Martha Magenheim, who had a pet pig.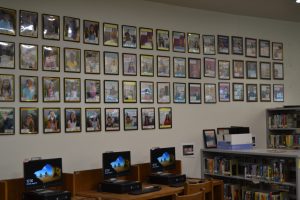 Third grade – Always have a book within arms reach
A certain number of AR points, earned by taking quizzes on a book, was required during this year. After a certain number of points, you could get on the "Wall of Fame" in the Media Center. With the help of the entire Harry Potter series, I was able to reach this goal and have my face hung in the library. The photo depicts a rather unflattering haircut, but I am proud whenever I see it among the many frames in the library.
Fourth grade – Realize the tremendous gifts you have, and share them
My one and only attempt at becoming an author occurred when my class wrote and illustrated story books for the students at Oak Park, a school for those with special needs. The co-author and I got to meet the amazing young girl who received our alphabet book. My memories of that day are filled with excitement and smiles of getting to know her.
Fifth grade – Do not get carried out with the tide
I have no idea where the fad came from, but in fifth grade, my friends began carrying miniature Vera Bradley backpacks to lunch with us. Keep in mind, these were not lunch boxes. For some reason we thought we needed purses at the age of ten when we still had our backpack full of books to lug around. Looking back, I realize it is not the best idea to follow every trend — most of them are ridiculous anyways.
Sixth grade – Always keep an extra chair free
With the influx of new students, I made many new friends in my first year of middle school. A lunch table is always more interesting when there is an extra chair for someone new.  To those who are new, please take a seat at those empty chairs.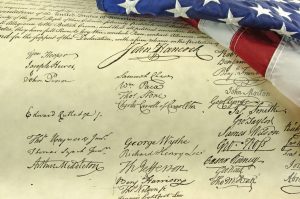 Seventh grade – Be passionate about at least one thing
I remember the day Mr. Murray performed the Declaration of Independence like it was yesterday. He jumped around, got on top of desks and literally declared the introduction to the famous document in my civics class. While I may never be that passionate about American history, that day taught me to find something that I loved enough to shout it at an unsuspecting group of 12-year-olds.
Eighth grade – Find your home
My brother was a senior during this year, and I was able to watch him do everything that I find myself looking forward to this year. From Senior Fridays to Mr. Pine View, I saw him enjoy every aspect of his last year at Pine View. I know I  will remember these traditions long after I graduate; it was then that I truly understood that Pine View has been and will always be my home.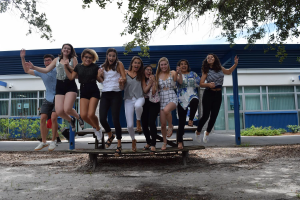 Ninth grade – "You can't always get what you want, but if you try sometimes, well you might find you'll get what you need"
The Rolling Stones may have come many years before I was born, but their message is just as accurate now as it was in 1969. My freshmen year on The Torch, I received a position on staff that I hated: Assistant Sports Editor. I wanted nothing to do with this section, but it turned out that I could not have picked a better spot for myself.
Tenth grade – Get to know your teachers
Teachers are not just around from 7:21 in the morning to 1:01 in the afternoon and then mysteriously disappear. This was probably the first year I began to be friends with my teachers. I learned about social studies teacher John Schwieg's son and science teacher Angela Wilson's love of cats. Don't be afraid to talk to them about any and everything, for they are some of the most interesting people you will ever meet.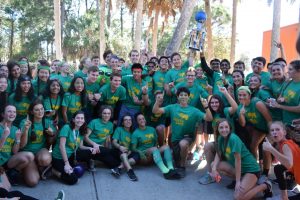 Eleventh grade – Peek your head out of your books every once in a while and look around
The infamous junior year. No grade, no test and no homework is worth the stress that almost every eleventh-grader takes on. At this time in your life, some of the best moments will happen as long as you take a breath and leave the books behind every once and a while. Some of my favorite memories, from cobalt to winning dodgeball, are from junior year.
Twelfth grade – To quote English teacher Nicole Light, "Do not be petty"
As I enter my eleventh year at Pine View, I will have many more lessons to add to my list. I think Ms. Light put the most important lesson into words on the first Senior Friday of my AP Literature class. Each and every  Pine View student has been through a lot, be it their eleventh or their first year here. Do not let little things take away from the once and a life time experience of being a senior in high school.