As an annual tradition, one educator is selected as Teacher of the Year for each respective grade level of elementary, middle, and high school at Pine View. For this year, fourth grade teacher Amanda Simon, middle school math teacher Kelly Vest and music teacher Victor Mongillo were each surprised with a visit from Principal Dr. Stephen Covert and awarded the Teacher of the Year for their respective levels. Out of these three winners, Mongillo was announced as overall Teacher of the Year and will represent Pine View in the county. Award recipients were nominated based on faculty nominations, with staff members at elementary, middle and high school levels initially choosing a teacher from their respective level, and later choosing one of the three winners as an overall winner.
Amanda Simon
When fourth-grade teacher Amanda Simon won the elementary Teacher of the Year award, she was both shocked and honored.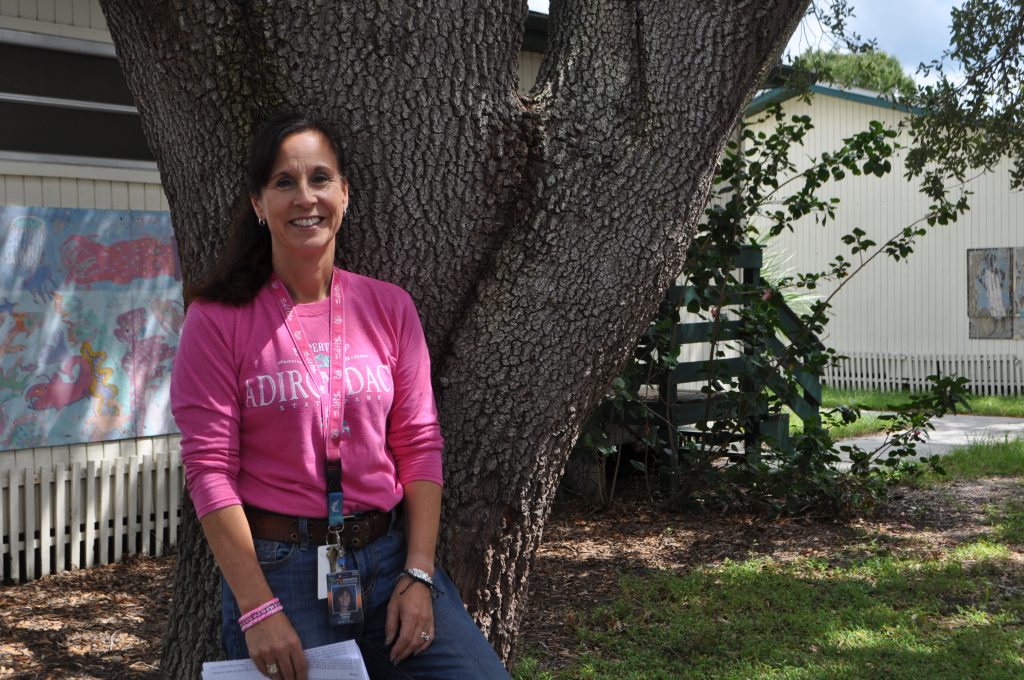 According to Simon, everything she does is for her students; even her room has been geared to make her students feel safe and comfortable. Called the "Learning Lodge," the classroom has an artificial fireplace, a tower garden, sheer blankets over the lights that look like clouds, and hundreds of little personalized items that make the room feel like home.
Since joining Pine View 14 years ago, Simon has made a huge impact not only on her students but also on the school community. One of her main goals was to incorporate physical education into her students' curriculum; as such, she started the Run Club. The club meets five days a week before school begins, so every elementary student has a chance to join if he or she wishes to do so.
Simon also spearheaded the Python Run, a 5K race in which Pine View staff and students compete in, with the help of fifth-grade teacher Cindi Wozniak. Simon uses the proceeds from the run to facilitate with the health and wellness in the community. Additionally, she has also donated grants to occupational therapy, gave money to the Walking School Bus for shirts, and provided nine tower gardens across campus.
Simon loves the bonds she forms with her students and their parents during the school year and even beyond that. "My favorite thing about teaching is the relationships I make with families," she said. I get to see my kids grow up, and I love having siblings and getting to know each of them and how different they are."
As a piece of advice to her fellow teachers, Simon said, "Enjoy teaching [and] see everything as an opportunity to make a difference. Don't be a slave to your lesson plans. Real lessons are never assessed on a test."
Kelly Vest
While teaching her Algebra I class, math teacher Kelly Vest was surprised to hear her name called as the recipient of the middle school Teacher of the Year award.
Upon learning that she was selected, Vest said, "I definitely was shocked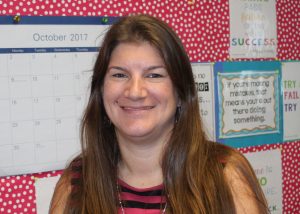 and happy, but it was cute to see how excited [the class was] for me."
After Vest graduated from the University of Tennessee at Martin with a bachelor's degree in elementary education and a master's in educational technology, she began teaching in the late 1990s, accepting a teaching position at Pine View as her first job. Now, she has been teaching here for 19 years. Additionally, Vest is the class of 2021 sponsor, MATHCOUNTS sponsor and Girl Scouts Assistant Troop Leader.
When asked what advice she would give to a new teacher, Vest said, "It's easy to get distracted and overwhelmed with your first year with deadlines and commitments, but always remember to take time to remember why you became a teacher, enjoy the art of teaching, form bonds with students, and find a happy balance between school and family."
Vest respects and enjoys collaborating with her colleagues. "The teachers I work with are a stellar group of educators, and I am lucky to be able to grow and learn with them every day," she said.
Vest invests her time in teaching to ensure her students are successful in the future. She said, "Teaching is about inspiring your students and teaching them to learn from their mistakes to hopefully help them become productive members of society."
Victor Mongillo
When band director and music instructor Victor Mongillo learned that he received the high school Teacher of the Year award and the school-wide Teacher of the Year, he joked that a recount should be demanded.
"There are so many amazing teachers at this school, and I thought for sure it would be one of them," Mongillo said. "I was just honored to be nominated." He has been teaching band in and outside of Pine View classrooms for 29 years, while still finding time for his own performances in the community.
Mongillo's inspiration in life for teaching has come from all of his previous band directors, even when moving from Connecticut to Florida. While he was a musician in Chicago, he started to teach.  "I just realized it was such a great life to live," he said.
While some may know Mongillo strictly as Pine View's band director, he has also been involved in many other school activities. On campus, Mongillo has directed Jazz Band, Wind Ensemble, Concert Band, 7th and 8th grade Solo and Ensemble Bands, as well as the event Jazz under the Stars. While outside of school, he has worked with children in the Sarasota Youth Orchestra Program and a program called Summer Winds.
In regard to what he believes is the key element to teaching, he said, "Teachers have to jump through a lot of hoops, but … you [can] never lose the sight of that it's all about the kids, especially in a school with such phenomenal teachers, collectively, we can affect change."
---
Stories by NAINA CHAUHAN, NOELLE BENCIE and HALEIGH BROWN