Having made its debut this weekend, PythonMUN I is a revolutionary way for new members of Pine View Model United Nations (PV MUN) to get exposure to the world of MUN. As one of the largest clubs on campus, PV MUN is creating a new way for novice participants to ease into the conference process.
According to president of the club and twelfth-grader Alex Anacki, as PV MUN continues to grow in popularity, the number of underclassmen members has risen rapidly. This growth has suggested the need for more pr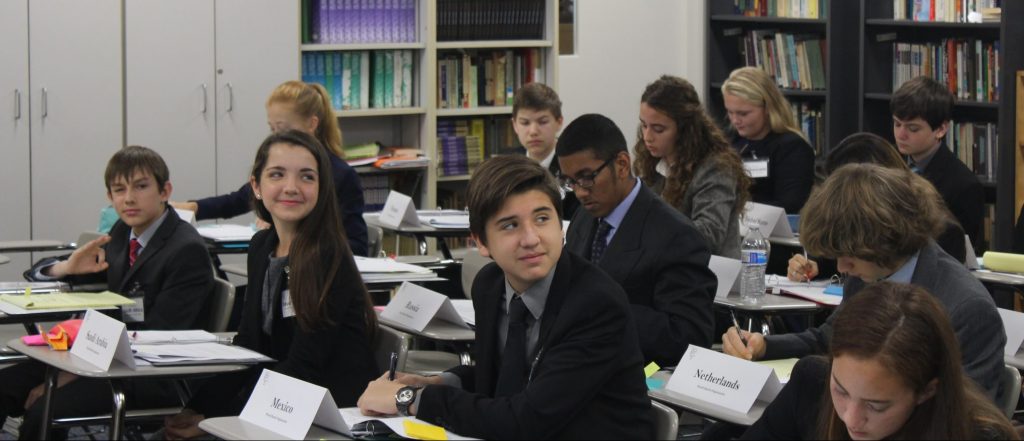 eparation and training for future MUN conferences. As a result, the club has decided to create PythonMUN, an in-house conference for novice members to gain experience.
PythonMUN follows the same layout and style of any traditional college-level conference, featuring routine committees, awards and position papers. There are four committees taking place at the conference, including the World Health Organization chaired by twelfth-grader Allie Odishelidze,  the UN Development Programme chaired by eleventh-grader Narissa Kelliher, and UN Women chaired by eleventh-grader Shelly Barber. Topics within these committees will include neglected tropical diseases, educational development, and female empowerment respectively. 
A fourth committee called the Leslie Knope Committee for the Betterment of Pawnee based off the television series Parks and Recreation features the fast-paced atypical style of a crisis committee. Crisis chair twelfth-grader Riley Board said, "The delegates will work together to deal with problems in the small town of Pawnee including bankruptcies, government shutdown, and interpersonal conflicts."
PythonMUN I is a successor to the former conference FHSMUN. According to Anacki, this club was found to be insufficient to the needs of PV MUN novices. "We used to hold [FHSMUN] here in the past that I didn't think was really meeting the needs of our delegates, so we decided to take matters into our own hands and help train more members in the process,"  Anacki said. 
The conference saw over 80 delegates in attendance this weekend. Pine View MUN  For more information, visit pythonmun.com.