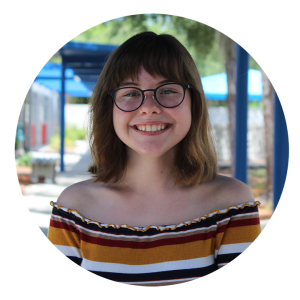 Hi! I'm Brianna coming at you live with my first and only (so far) blog. This week, I'm here to inform y'all on the goings on in the entertainment world for you to look forward to and get you through this school year. From movies to video games- I hope to cover it all. Anyways: here is what no one was waiting for, my most anticipated media for the coming 2018-2019 school year.
Television Shows
The Dragon Prince: Now, to be honest, I'm probably most excited for The Dragon Prince. If you're not yet aware of what this show is well, let me tell you: it's an animated TV show coming to Netflix in September, and the best part about the show is the cast and crew. The man in charge of writing this project is the esteemed Aaron Ehasz, one of the directors and lead writers of Avatar: The Last Airbender. If there's one thing you'll get from my blog posts it is my constant and ever-steadfast love for Avatar, and anything even slightly related to it, especially in the writing department. That gets me more excited than anything. It's also a good sign considering The Dragon Prince is coming out on Netflix, which is slowly becoming a juggernaut in animated TV shows, with multiple animated originals coming to their platform later in the year. This is probably my most anticipated show of the fall season, and if it ends up being disappointing, I can guarantee that everyone in my life will hear me whine about it for months. 
(September 14, 2018)
She-Ra:  To start this off, I became aware of this show's existence after all the twitter drama went down regarding the fact that Princess Adora apparently looked like a boy. Now if you agree with that statement, I'd like to tell you that you're very wrong and have never seen a 16 year old girl; however, I'm still incredibly excited for this show. This show like many others coming out, She-Ra is a reboot of the 80's cartoon "She-Ra: Princess of Power". I hope that this is one of the facets that popularizes the show as it has done with shows like Voltron: Legendary Defender and others of its type. I am absolutely in love with the animation, especially the sheer quality of the backgrounds. The colors and art are simply stunning and even if the writing doesn't end up being top-notch, I wouldn't mind watching just for the art. I feel as though the show will be in good hands, as the show runner is Noelle Stevenson, a talented and award winning comic book writer (she's behind the Lumberjanes which is wonderful, please read it), and I think she will do She-Ra right.
(November 16, 2018)
Black Mirror Season 5: Now Black Mirror Season 5 doesn't have an official release date yet, however, we know it's currently in production and filming is currently underway. As many people will know, I'm a big fan of Black Mirror because of its awesome structure. Every episode is like a mini movie that will scare you and make you put some tape on your webcam. Its great if you haven't seen the previous seasons and I highly recommend it to everyone who even slightly likes sci-fi. I feel like the show can only be described as WILD. Every episode is filled to the brim with twists and turns that will make you both want to scream at the TV and cry. I'm super excited to spend my evenings silently sitting on the couch considering the implications of Black Mirror episodes but until then I'll actually enjoy my life.
(TBA)
 Movies
Spider-man: Into the Spider-Verse: I'll admit, I'm pretty boring and do enjoy superhero movies, the most mainstream of the mainstream, however if you're not into superhero movies I still think Spider-man: Into the Spider-Verse will be worth a watch simply due to the stunning animation. I vividly remember going to the movies and the trailer for this movie played and I was amazed by the vibrant city colors and the beautiful animation. Also speaking of the animation, I love how comic inspired the trailer and hopefully the movie seems to be. It moves like a comic, it looks like a comic, just on a giant screen. I'm also intrigued as to what this means for marvel as this is their first 3D animated super hero movie, if this is a success could this open doors for more movies of the same style with other heroes? This is also the first time we see Miles Morales, one of the spider-men from the many alternative universes of Spider-man, coming to the screen as well as the idea of a multiverse properly represented. The way this movie is using the comic book aesthetic has got me so psyched and I apologize to those who have heard me geek out about this movie for weeks.
(December 14, 2018)
How to Train Your Dragon: The Hidden World: So a bit of background, I remember being significantly younger and loving the first 2 movies but over the last few years I almost forgot it existed and I feel a little bad about that. I recently rewatched the first one with a friend of mine and realized I had forgotten how great it is. The animations so smooth, the soundtrack is so beautiful and the fight scenes are bananas every time. After finishing the first one, my friend that I had been watching it with informed me of the trailer for the third installment of the series. As expected, the animation is great, everything is so smooth and moves so naturally, its an absolute treat for the eyes. I'm fully prepared for the ending to wreck me emotionally as people have already compared its emotional-drainage factor to movies like Toy Story 3 that still make me sad just thinking about them. Cheers to the end of an era.
(March 1, 2019)
Well, this concludes my first post, I have way more games, comics, etc… that I'm eagerly awaiting to write about. Until then, radio rebel signing off.
Brianna