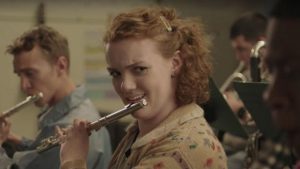 Hey Torch consumers and film aficionados, not to start this off with ultimatums, but Netflix's latest teen-oriented movie venture — "Sierra Burgess is a Loser" — is a tragic failure.
The film, starring Shannon Purser and Noah Centineo, seems to make an attempt to follow the success of Netflix's other most recent rom-com, "To All The Boys I've Loved Before." In terms of production, Sierra is notable for its pleasing soundtrack and soft, artistic cinematography, providing what should be an ideal backdrop for a quirky, feel-good story. The plot, however, falls below rock bottom, to the point where I literally needed to take two-hour breaks at regular intervals to avoid second-hand shame and embarrassment.
It stars Purser in the role of the atrocious Sierra Burgess, a high school senior dreading college with a resume as bland as the casting for this film. This plotline immediately takes a back seat though, when Sierra endeavors to bolster her repertoire by working as a tutor, she instead ends up in a convoluted romantic relationship involving Centineo's character, Jamey. The two get to know each other through text after Jamey receives Sierra's number from the supposed cheerleader antagonist, Veronica.
This is the kind of movie you watch wanting to feel good about yourself and teenagers at large, but it is really disappointing. Sierra, rather than exploring her insecurities to pursue an earnest relationship with Jamey, firmly establishes herself as a severely problematic protagonist. She belittles Veronica soon after befriending her, catfishes Jamey, kisses him
without consent, pretends to be deaf and lets other people clean up her mistakes for her. She wholeheartedly embodies the toxic "I'm not like other girls" trope, in which women in television shows and movies put themselves on a pedestal on the basis of their intellectual prowess, all the while shaming other girls for enjoying overtly feminine and "shallow" pursuits, like makeup and relationships.
Sierra's whole character reeks of toxicity, repelling audiences as she commits blunder after blunder. She refuses to admit her true identity to Jamey after instigating a more than amicable relationship under the guise of another individual, which is a total invasion of consent and privacy. She catfishes him, going to extreme lengths to remain anonymous, for fear that he will hate her physical appearance. Not only does this make Jamey vulnerable to Sierra's selfish whims, but it also escalates, as she exploits Veronica to keep her secret. Together, they Skype Jamey using Sierra's voice, but only allowing the (conventionally attractive) Veronica to appear on screen. They also set up an absurd three wheel date, at the end of which, Sierra kisses Jamey while he's blindfolded, completely without consent, as he can't see who she really is. This horrendous move at innocent romance by the screenwriters occurs after Sierra accidentally encounters Jamey in real life and, to avoid letting him hear her voice and thus recognize her from their nightly communication, she pretends to be deaf. In front of Jamey's actually deaf sibling. To say "yikes" here is an understatement.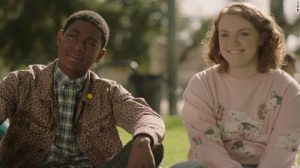 Now don't get me wrong, this film isn't all bad. We do have on-screen representation for deaf people, as well as a lovely redemption arc for the antagonistic cheerleader, something not often seen in teen films. It would be a better movie though, without its main character. So yes, Sierra Burgess IS a loser, but not for the reasons you might initially think she is.
Photos provided by Mashable