In an effort to foster a greater sense of community and acceptance among high schoolers, Pine View students and administrators launched a new event in collaboration with Embracing our Differences, called Unity Day, aiming to establish school-wide tolerance. The event connected teacher-nominated student leaders in grades 9-12, and allowed students to open up about concerns regarding mental health and community relations at Pine View.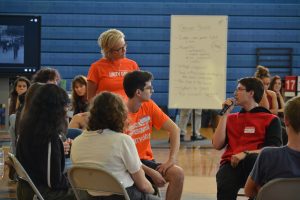 The all-day event was sponsored by Embracing our Differences, a Sarasota-based nonprofit with the goal of promoting acceptance through art and education. Embracing our Differences has sponsored Unity Day at multiple schools in Sarasota County for years, but this year was Pine View's first opportunity to hold an event. 
"We're coming together as a community to understand other people for who they are, and bridge the gap between ourselves and the people around us," tenth-grader and Unity Day participant Summer Bossman said.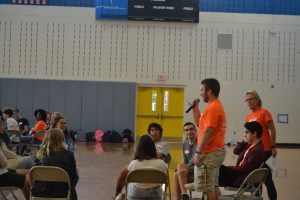 The event greatly stressed the importance of vulnerability in the process of growing and forming connections among peers, especially in a small community such as high school. Unity Day featured multiple activities where students were given the opportunity to open up with students they may not typically interact with, which helped form both positive connections and friendships that will last long after Unity Day comes to an end. 
Photos and reporting by Shelby Brann and Lindsay Luberecki.