With the new year, six new elementary teachers have joined the Pine View staff.  To learn more about them, the Torch staff sat down with each for an interview on where they are from and where they are going.
Rachel Lenerz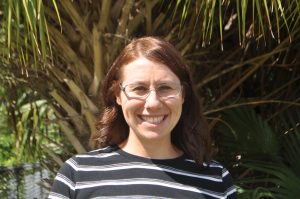 New fifth-grade teacher Rachel Lenerz has always held a fondness for making a difference in people's lives. Channeling that affinity into action, Lenerz has found her calling as a fifth-grade teacher at Pine View.
Lenerz has lived in Sarasota since the age of 7, starting out as a Pine View student in the fourth grade on the original campus. After moving to the current campus in 1994, she later graduated with the class of 1998.
After completing her high school education, Lenerz attended the University of Florida, graduating with a major in finance in 2002. She then began working as an underwriter for an insurance company, but it did not fulfill her desire to directly make a difference in the lives of those around her. "Insurance has its place in the world, but it wasn't making a difference in the lives of people every day," she said. "I saw how much my husband loved teaching, and I really wanted to do something that had an impact on people."
Lenerz began her teaching career as a substitute teacher four years ago for all different elementary and middle schools around the county. She was then hired at Booker Middle School to work with Exceptional Student Education (ESE) students during the 2014-2015 school year. Since then, she has coached elementary Physical Education at Ashton Elementary and currently is a Pine View fifth-grade teacher. "I love Pine View. My kids go to Pine View, my husband teaches at Pine View, and I've always wanted to teach at Pine View," Lenerz said.
In her free time, Lenerz enjoys running, working out and spending time with her family. According to Lenerz, she enjoys working out so much that she wakes up at 4 a.m. every morning in order to fit it into her busy schedule.
"I have the best classes and students, and the fifth-grade team is so welcoming and supportive," Lenerz said, "It is so much fun to come [to work] every day."
Sara Kolsky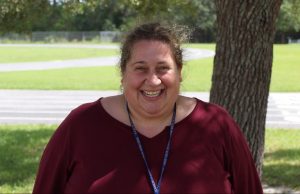 Although originally from Oregon, Kolsky attended Lemon Bay High School in Englewood. However, she returned to her home state to attend the University of Oregon, receiving a bachelor's degree in sociology and then a master's in elementary education from George Fox University.
Prior to teaching at Pine View, Kolsky taught at a private school and before-and-after school care in Oregon. Not satisfied with the job, she moved to China for one year to teach English to kindergartners. "It was different … Everybody, it seemed like, kept moving to Oregon and I wanted a different challenge," she said. "The opportunity to move to China just presented itself … It was different. I did not speak Chinese, and [the students] did not speak English."
Afterward, she returned to Oregon and taught first-graders for one year. Kolsky decided to return to Florida after 20 years due to her family members living in the state. Before teaching at Pine View, she taught kindergartners for three years at Classical Preparatory School in Florida.
She decided to apply to Pine View because of knowing the school through its reputation as well as having some relatives attend the school. "[Pine View] had similar teaching strategies to what I had already previously taught with, and the location was also nice. It just seemed like the right fit for me," she said.
According to Kolsky, she entered the teaching profession because of her love of younger students and their desire to learn. She said, "I love children. I love making a difference," she said. "They're fun and silly and crazy and cute and every day is different, especially younger kids — the simplest things excite them."
Despite coming to a new campus, she said she appreciates her colleagues for helping. "I work with a fabulous team, and they have been very helpful and welcoming," she said. "I have asked at least ten questions a day if not more, and they are really good about answering my questions."
While at Pine View, Kolsky hopes to facilitate second-graders in transitioning to third grade and wants them to have fun. "I want to prepare them correctly for third grade and challenge them so that they will be higher thinkers," she said. "I hope that they have a great time in second grade and that they look back at it with great fondness and memories."
Lisa Rader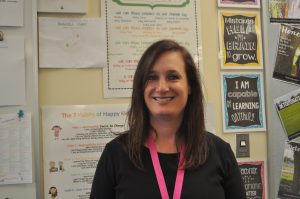 Having taught for over a decade in Texas and Michigan, Lisa Rader moved east to teach fifth grade at Pine View. Rader teaches language arts and social studies —her two favorite subjects — to her students.
Despite being experienced in the world of teaching, Rader had not originally planned to go into teaching; rather, she had planned to major in Business Administration while at Oakland Community College. At the time, Rader worked at a health club, and one day she was given the opportunity to fill in for someone at the child care center. "I loved it. I loved working with the kids, and I thought, 'There's something to this, and I want to explore this,'" Rader said. "So, that's how I decided I wanted to work with kids." From there, Rader went to Arizona State University to study elementary education.
After working in the same district in Michigan for five years, Rader made the decision to move to Florida, specifically with Pine View in mind. "My mother lives here in Florida, and she has talked all about Pine View and I knew I wanted to teach here," Rader said. During the 2016-2017 school year, she began the process of moving and getting a job at Pine View.
According to Rader, when in the classroom, she aims to create an interactive and engaging environment for her students through utilizing hands-on activities. "I love that the kids have more responsibility, that they're eager to learn and they want to be here," Rader said.
"Her work ethic is impeccable, she has put in overtime everyday this first quarter and she's an excellent team player," fellow fifth-grade teacher Peggy Barber said.
Brittany Gieseke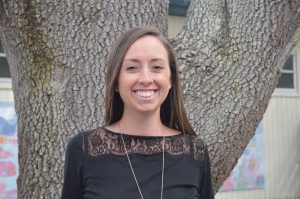 Although she has had a taste for teaching at places from China to Cambodia to Washington D.C., new fourth-grade teacher Brittany Gieseke is back where she started: Pine View. A graduate of the Pine View class of 2005, she is excited to return to her alma mater.
Gieseke and her husband, son of former math teacher Tom Gieseke, both attended Pine View, and met when they rode the bus together in middle school. After graduating, she studied at the University of Central Florida, majoring in Elementary Education. From there, they moved to Washington D.C., where Gieseke worked in the public school system for a year before teaching just outside of the city in Fairfax County, Va. for seven years.
In Fairfax county, Gieseke worked as the English as a Second Language (ESL) Resource Teacher, receiving a lot of information about opportunities to teach English in other countries. Along with her cousin, who was also an ESL teacher, she was paid to teach English in China and Cambodia for three months over the summer.
"I don't speak a word of Chinese; there are just a lot of different techniques for teaching children, a lot of acting, and pictures and hand movements," Gieseke said.
Gieseke and her husband returned to Florida last year to be closer to their families. "We decided that when we have children we wanted to be close to our parents and didn't want to do it alone in D.C.," she said.
For Gieseke, who wanted to return to Florida's public school system, starting at Pine View has been a homecoming. "So many of the things are still the same; they did Proud Python when I was here in 1994. I feel like it's just coming back home." She has enjoyed seeing her former teachers, like social studies teacher Scott Wolfinger and science teacher Flo Ames, working alongside those who taught when she was a student.
"My favorite part is coming back, a lot of the things that made Pine View what it was for me are still intact… events like the Pine View Fair that I looked forward to every year," Gieseke said.
According to Gieseke, it has been a great experience to teach gifted students, "It's so interesting that I can have really deep conversations with ten-year-olds, and we can take it really far, and it's a lot of fun to teach."
Stacy Burkett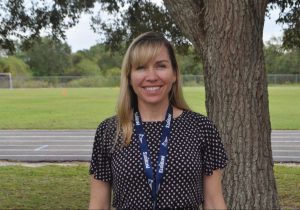 A native of Foxborough, Mass., fourth-grade teacher Stacy Burkett has brought her enthusiasm for education to not only Florida, but to every classroom she enters.
Burkett originally began working in software after receiving her bachelor's degree in Environmental Protection from Massachusetts Maritime Academy. Over time, Burkett realized her job did not fit with who she was. "I wanted to do something more to give back and help," she said. Consequently, she found education.
Burkett went back to school to earn her teaching degree from Bridgewater State University. Growing up, Burkett frequently babysat and tutored. She said, "I always liked education." After a few years teaching in Massachusetts, Burkett moved down to Florida and enrolled at Argosy University, where she earned a master's in School Counseling.
Before Pine View, Burkett taught in the fifth-grade gifted program at Garden Elementary. "When I started to experience working with gifted kids, I really enjoyed the idea of being able to have creativity," she said. "I wanted to challenge myself."
Now holding nearly 11 years of experience, Burkett has found her calling in elementary education. "I feel like I can do a lot of help with not just academics, but also life skills," she said.
Jennifer Wise, another fourth-grade teacher working with Burkett, noted Burkett's strengths in the classroom. "She's very compassionate, she's very organized, and she's very creative," Wise said. "We're very lucky to have her."
Burkett appreciates her job at Pine View and the opportunity to interact with students in elementary, middle and high school. She said, "I seriously am grateful every day that I have the opportunity to be here." 
Susan McKenzie
For new fourth-grade teacher Susan McKenzie, teaching has been a lifelong passion. McKenzie has been teaching elementary students for the past eighteen years, but has finally found her home at Pine View.
As a child, McKenzie grew up in Ashland, Ky., and began showing her interest in teaching at a very young age. In elementary and middle school, she was always pulled aside to help the younger kids with their schoolwork. By high school, McKenzie was already teaching her own Sunday school class at her local church.
Upon graduating Boyd County High School, McKenzie attended Ohio University with the intention of becoming a teacher, receiving her Bachelor of science in education and a minor in mathematics. At Ohio University, McKenzie was given the opportunity to participate in a distance-learning program for new teachers, in which she would teach three different third-grade classrooms in three different cities around Ohio at one time. "It was wonderful…[The students] were a little nervous, but then within a very short amount of time, it was as if they were all sitting in the same room," McKenzie said.
From Ohio University, McKenzie moved on to receive her master's degree for elementary education at Morehead State University back in Kentucky. For the next eighteen years, she taught elementary students in various locations until her husband's job was relocated to Sarasota in February. McKenzie thus applied to many Sarasota schools, and eventually chose Pine View. "[Everything is] amazing. This is an amazing environment with amazing faculty, kids and parents to work with. I am so thrilled to be here," she said.
When she is not teaching, McKenzie loves basketball—having previously been a varsity coach—and being a mother of three. "I love being a momma—watching them grow, playing with them, riding bikes, being outside learning, exploring…" she said. Whether for her own children or the ones in the classroom, McKenzie's compassion truly shines bright.
---
Stories by SANA RAHMAN, SUZANNE BROWN, RILEY BOARD, ALEXA MOLLOD, MACKENZIE DYRDA and ANNIE HASSAN