The class of 2020 kicked off their annual high school soccer tournament March 22 by the track field. The brain child fundraiser of the class was initiated last year and has brought money to the class and smiles to the faces of athletic students.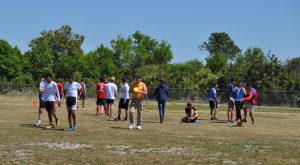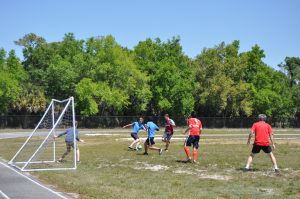 The "round-robin" type tournament consisted of multiple rounds and teams that continued to play on as they won. The other tournament played lasted roughly two hours and had an enrollment fee of seven dollars. The winning team got to take a picture with a trophy to share their victory with friends and promote the fundraiser.
The soccer tournament fundraiser commenced last year and was a success that the class of 2020 decided to make it an annual tradition. The original idea made their class around an extra $800 last year which in turn facilitates class events and supplies. "[The soccer tournament] has brought a lot of extra money to our class, and has allowed the class officers a way to collaborate and work together with our entire grade," class of 2020 secretary, Gwyn Petersen, said.
The unique fundraiser is looking forward to making its appearance for many years to come, and the class of 2020 hopes to increase the amount of participation throughout all grade levels.