Combining delicious comfort food with a contemporary yet cozy design, Max's Table has been charming customers with its mouth-watering breakfast and lunch menus since the day it opened.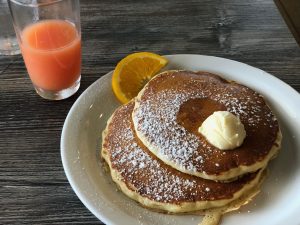 Operating since 2017, Max's Table is the result of a complete renovation of the former M&D Restaurant. The interior was completely overhauled, transforming from a once drab and gloomy diner to a bright, airy and lively dining area that still contains traditional elements of a 1950's diner. True to a classic 50's diner, Max's is furnished with booths down both sides of the dining area and includes a bubbly waiting staff. Food can be enjoyed inside or al fresco in the outside patio. Hungry customers are immediately drawn to the welcoming, spacious dining area and bar, which maintain a casual and care-free environment.
Every item on the menu is reasonably priced. Ranging from around five dollars up to around 12 dollars, the prices rarely pass the 10-dollar mark.
The omelettes are a must-try at Max's Table. Options range from the classic cheese omelette, priced at $7.49, to the Feta, spinach and tomato, at $8.99. More specialty options include the "Out West," with ham, onions, peppers, mushrooms and cheddar cheese, priced at $9.49, or the 'MAX's" with bacon, tomato, spinach and goat cheese, with a $9.49 price tag as well. Customers can also create their own omelette. A two-item omelette will set you back $8.49, while a three-item costs $8.99.
There is a large variety of additional dishes offered in addition to their specialty omelettes. Classic, from-the-griddle options, like country-style buttermilk pancakes, Belgian waffles, and French toast will cost customers $6.99, $5.29 and $6.49, respectively.
On the lunch menu, there is just as great of a selection of delicious meals to choose from. Max's offers five salads, ranging from a classic mixed greens salad, at $5.99, to the cobb salad, priced at $9.99. Burgers and sandwiches are also served all day, with options like the all-American burger and turkey and Swiss panini each priced at around nine dollars.
On the negative side, the booths in the inside dining area are a little tight, and it is quite loud inside, as the diner is almost always completely full. The serving sizes are on the larger side, so many of the dishes could be considered heavy and overfilling.
Max's table is located at 115 South Tamiami Trail, Osprey, FL 34229 and is open from 7 a.m. to 2:30 p.m. daily. They serve meals from both the breakfast and lunch menu all day.
Max's Table offers an impressive dining experience, with delicious, satisfying food and a comfortable, casual atmosphere, all while being located just a few minutes away from Pine View.
Rating: 4/5 Torches