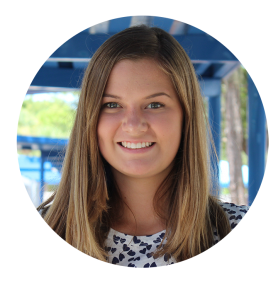 The Personal Part
Hello lovely humans! My name is Gwyn, and welcome to my food blog, where we focus on all my loves who are vegan and gluten-free. Why, you might ask?
To be honest, had it not been for my mom's diagnosis, I may never have started cooking. That seems like an extreme statement, but for me, it's one that rings truer than anything else. My mother is one of the strongest and most determined individuals I know. So when I first learned about the severity of her diagnosis, it was shocking, and it took a while for it to fully sink in. Let me break it down for you. My mom has Sjögren's, a systematic autoimmune disease that affects the entire body.
Every moment of her life, she is in constant pain. Her body can't process gluten, dairy, most meats, and most sugars. When we first learned about Sjögren's, we didn't quite know the boundaries of what Mom could and couldn't eat. The first thing to go was bread, and then milk, until really all she was eating was carrot sticks, strawberries, and the occasional filet of salmon. I wanted to help.
I started out by doing some research on flour brands, which was not a lot of fun, but it provided me with some insight on the hidden world of gluten-free baking. Eventually, after a lot of experimenting and tons of accidental fires, I made my first gluten-free dessert — chocolate cupcakes. I kept adding new recipes to my inventory and testing them out on my family. And then, I hit high school, and I fell in love with cooking. I started making dessert more and more often, and worked my way up to cooking two nights a week. I wanted to do more. My mother is a lot of things, and stubborn is definitely on that list. I would know, since I inherited that trait from her. She was reluctant to let me take over making dinner every night, but she eventually relented.
Cooking — the best kind of cooking, the cooking your grandmother does for the holidays, perched behind the book of her coveted original recipes — takes heart. Any heart that I have, I got from my mom. So this week, take a moment to look inside and reflect on what — or who — gives you inspiration in your life.
The Hard Part
This week, we're making blueberry muffins! This recipe yields 24 muffins. To make them, you will need…
2 cups of blueberries
1 3/4 cups of unsweetened vanilla almond milk
1 cup of unsweetened natural applesauce
13 tablespoons of vegan butter (I recommend Earth Balance — they have really good butter specially made for baking)
5 cups of gluten-free flour (I recommend King Arthur — I found it's finer than most other brands)
6 tablespoons of baking powder
1 3/4 cups of cane sugar (Make sure you read the label! Fun fact, not all sugar is vegan.)
3 teaspoons of vanilla
1 1/2 teaspoons of apple cider vinegar
1 1/2 teaspoons of sea salt
Extra sugar to sprinkle on top of the muffins for that nice and crunchy top!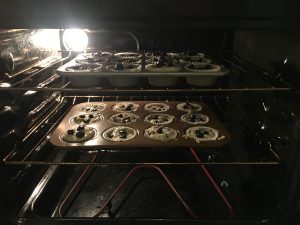 First thing's first, mix together all of your dry ingredients in a large mixing bowl.
Preheat your oven to 375° and line your muffin tins with paper cupcake holders.
In a small bowl, mix your almond milk and apple cider vinegar. Set aside.
In a medium sized mixing bowl, combine all your dry ingredients.
Melt butter in a small bowl, and add your other wet ingredients, including the almond milk mixture. Stir well.
Mix wet and dry ingredients together. Be careful not to over-mix! Stir the mixture (Hint: It should be lumpy, not smooth).
Stir in the blueberries, keeping some aside for the topping.
Pour mixture into the tins, filling a little more than 3/4 full.
Top each muffin with blueberries and sugar.
Place in oven and bake for 23 – 28 minutes.
Let cool for 15 minutes before eating. Makes 24 muffins.
The Fun Part
Meet our three beautiful judges! Brianna, Haleigh, and Ella have agreed to be my test subjects for this recipe. Hopefully they like it!
G: What's your first impression of [the muffin]?
E: It actually smells really good!
H: I know. I'm excited.
B: I love that you can see the whole blueberries in the muffin.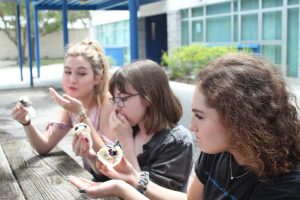 H: It's not like the chunks in the Publix muffins.
G: Alright, go ahead and take a bite!
B: Oh wow!
H: This is good.
E: It's the perfect level of moisture.
B: It's got just the right ratio of blueberries to muffin.
H: I agree with Brianna. This is fantastic.
Final Rating: 9 out of 10
In Summary…
I did make extra for the rest of staff, and the overall review was pretty positive! We ran out within five minutes, and we had to restrain Mr. Lenerz so he didn't steal Tricia's muffin. This recipe isn't hard, so it's perfect for those just starting out. The recipe doesn't take long, so it's great to make the night before and eat for breakfast the next day! If you have a nut allergy, I recommend switching out the type of milk you use (rice milk is a great alternative).  If you try out this recipe, feel free to email me at gwyn.petersen@pineviewtorch.com and send me your results!
Until next time, this is Gwyn, signing off. Stay hungry, kids!