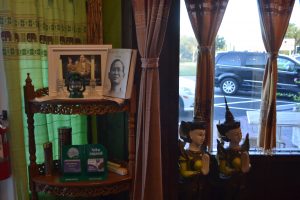 Isan Thai offers the perfect blend of culture and delicious food, from the restaurant's charming decor to their traditional and flavorful dishes. With their affordable prices and friendly waitstaff, the restaurant gives both a unique and immersive experience.
Entering the restaurant feels like walking into Thailand as smooth music plays in the background. The entryway displays traditional Thai figurines and decorations, offering customers a glimpse of history. In the dining room, walls display intricate pieces of art near each table, such as paintings of scenery, and dimly lit booths placed against the wall sit decorated with golden curtains drawn on either side.
The irresistible aroma of food sneaking from the kitchen builds anticipation for hungry guests awaiting their meals. The menu offers unique drink options such as coconut juice and ginger tea. Available appetizers include spring rolls, fried calamari, crab rangoon and more. The Isan Sampler offers the opportunity to sample some of the most popular dishes: spring rolls, crab rangoon, golden triangles and fish cakes, all of which are priced at $10.95.
Entrees come in a plethora of options and offer a range of flavors. Everything on the menu allows different levels of spiciness based off customer preference, from mild to incredibly hot. The curries include both meat and vegetable options served with a coconut cream sauce with slight variation and a side of rice for $12.95.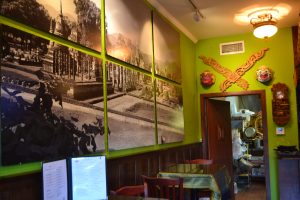 The pad Thai, one of the most popular dishes and a must-have, is crafted from rice noodles with egg, bean sprouts, peanuts, and scallions mixed, and a choice of meat for $11.95. Gluten-free dishes are available and labeled on the menu.
The delectable desert choices include a fried, savory honey sesame banana drenched in sweet honey sauce for $3.95 and a classic homemade flan cheesecake with an incredible consistency and taste for $4.95.
Isan Thai is located at 5758 S Tamiami Trail, Sarasota, FL 34231.
Rating: 5/5 torches